Marie Damman
Freelance services
My nomad life taught me some skills to work on my own from my computer. So if you are looking for help in the following field, please send me your proposal on PeoplePerHour or send me an email via the form here below.
Travel plans
Translation from English to French
Content writing
Copy writing
Reporting
Social media presence
Online sales for Belgians, French-speakers and expats in Dresden
Don't hesitate to let me know precisely what you need!
Je peux travailler également de chez moi pour vous aider dans certaines de vos demandes. Vous retrouvez ci-dessous la liste de mes compétences. Vous pouvez m'envoyer une description du projet via PeoplePerHour ou m'écrire un email via le formulaire ci-dessous.
Organisation de voyages
Traduction de l'anglais au français
Rédaction d'articles (blog, site web, journaux, publicité, reportage…)

Présence sur les réseaux sociaux

Vente en ligne (pour les Belges)
N'hésitez pas à me contacter pour toute demande d'information.
Currently based in Germany
Holding my camera, and keeping this blog up to date during my journeys, I enjoy to share stories of my travels (see here on the side bar where I have been so far). I write about the touristic attractions I see, my immersion with the locals, and my local way of life.
I also have a Frenchy accent, that most of the people confuse with France, but hey, here is a secret, I am not from there, but from a little country at the north border.
Today, my local life is in Germany, where I moved from Czech Republic. Like you can imagine, I never stay in one place.
Years ago, I did. It was for my studies. I succeeded a bachelor degree in Communications/Journalism/Marketing in Brussels, Belgium. After few years, I started to get bored and I left to finish my degree in the U.S. and in Romania.
Now, I can't avoid to travel so, to hold my keen for a while, I worked in the travel industry while keeping my social networks up to dates so you can follow my journeys too.
Currently, my personnal situation doesn't allow me to work in an office anymore. That's okay, because I have an awesome project in mind about my life in Czech Republic. You can check it out here.
I have accounts on LinkedIn, Pinterest, Twitter, Facebook, FourSquare, CouchSurfing, and so more. It is easy to get in touch with me. Feel free to do so if you have anything to discuss, or simply fill in the form here below.
Social networks / Réseaux sociaux
Find me on several social networks / Retrouvez moi sur différents réseaux sociaux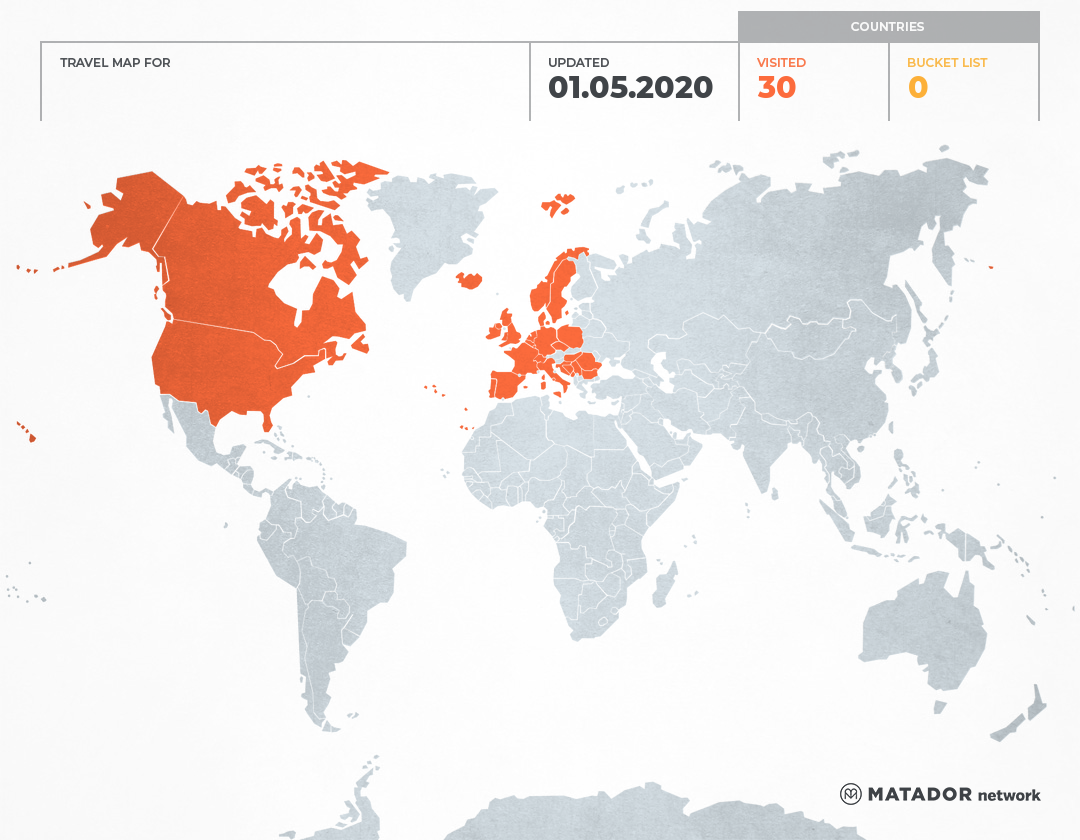 Marie has been to: Belgium, Bosnia and Herzegovina, Bulgaria, Canada, Croatia, Czech Republic, Denmark, France, Germany, Hungary, Iceland, Ireland, Italy, Luxembourg, Montenegro, Netherlands, Norway, Poland, Portugal, Romania, Serbia, Spain, Sweden, Switzerland, United Kingdom, United States, Vatican.
Get your own travel map from Matador Network.