Marie Damman
Nomad based in Czech Republic
Holding my camera, and keeping this blog up to date during my journeys, I enjoy to share stories of my travels (see below where I have been so far). I write about the touristic attractions I see, my immersion with the locals, and sometimes, my local way of life.
I also have a Frenchy accent, that most of the people confuse with France, but hey, here is a secret, I am not from there, but from a little country just at the north border.
Today, my local life is in Prague, Czech Republic. I am only recently moving out there so I can't say much about it yet.
So, with my bachelor degree in Communications/Journalism/Marketing from an university in Brussels, Belgium, and my camera, I search for new landscapes and new experiences to shoot. I studied in Belgium, at least few year, then, bored like always so I left to finish my degree in the U.S. and in Romania.
Now, I can't avoid to travel so, to hold my keen, I work in the travel industry while keeping my social networks up to dates so you can follow my journeys too.I have accounts on LinkedIn, Pinterest, Twitter, Facebook, FourSquare, CouchSurfing, and so more. It is easy to get in touch with me. Feel free to do so if you have anything to discuss, or simply fill in the form here below.
Nomade basée en Tchéquie
Avec mon appareil photo sous le bras, et mes doigts sur le clavier à mettre à jour ce blog, je passe de bons moments à partager mes récits de voyage (voir ci-dessous les pays visités). J'écris sur les attractions touristiques, mes immersions avec les locaux et parfois, sur la vie quotidienne.
J'ai aussi un accent assez francophone lorsque je parle anglais, que la plupart des gens me confonde avec une française. Je vais vous dire un secret, je viens d'un petit pays situé au nord de leur frontière.
Aujourd'hui, mon quotidien se passe à Prague, en Tchéquie. Je commence seulement à y emmenager que je ne sais pas encore vous dire beaucoup.
Du coup, avec mon bachelier en Communications/Journalisme d'une haute école de Bruxelles, Belgique,et mon appareil photo, je cherche à vivre de nouvelles expériences pour pouvoir les raconter sur mon blog. J'avais auparavant suivis la plupart de mes cours en Belgique. Je m'y ennuyais assez rapidemment que j'ai terminé mes études aux Etats Unis et en Roumanie.
Maintenant, il est très difficile pour moi de m'empêcher de voyager, alors je travaille dans le secteur du voyage. Je mets également à jour mes réseaux sociaux pour vous faire partager mes expériences. J'ai ainsi des comptes sur LinkedIn, Pinterest, Twitter, Facebook, Foursquare, CouchSurfing, et beaucoup d'autres. C'est très facile de me trouver et d'entrer en contact avec moi. Le plus facile d'ailleurs, c'est de remplir le formulaire ci-dessous.
Social networks / Réseaux sociaux
Find me on several social networks / Retrouvez moi sur différents réseaux sociaux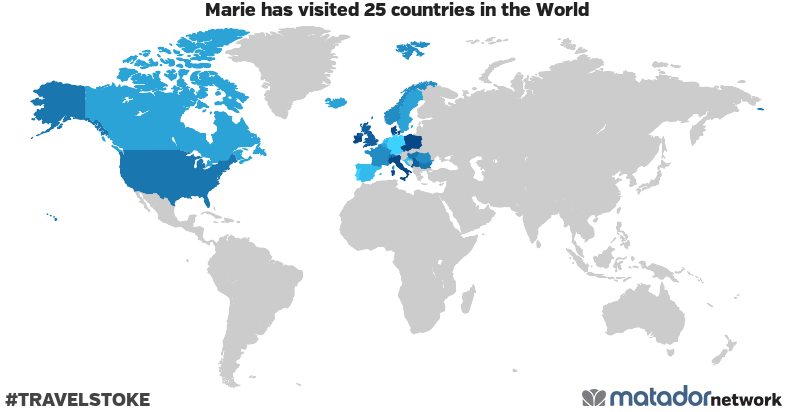 Marie has been to: Belgium, Bulgaria, Canada, Croatia, Czech Republic, Denmark, France, Germany, Hungary, Iceland, Ireland, Italy, Luxembourg, Netherlands, Norway, Poland, Portugal, Romania, Serbia, Spain, Sweden, Switzerland, United Kingdom, United States, Vatican.
Get your own travel map from Matador Network.